FACILITY MAINTENANCE |

P/N#FM001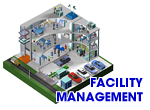 Facility Management System is a web based system designed to help campus wide organizations to manage facility services and its assetís maintenance. The key components of the system are the assetís preventive and corrective maintenance which include scheduling and resources planning.

The helpdesk system is integrated in within to act as an interface between the facility service provider and the facility service end users. Over the Internet or private cloud the system captures OLTP data, build SOP workflow and provide business intelligence for facility managers to track required organization KPIs.
FACILITY SERVICES
Facility management is a system that records and stores all information pertaining to a Facility, such as Facility name, tag number, purchase / register date, purchase value, Facility description, current owner, location and others. This system also records Facility depreciation which is useable for financials Facility management. This system allows users to upload digital images of the Facilities to generate user friendly Facility summary and reports.

TASK LIBRARY
The task library enables users to create and maintain standard maintenance tasks as a library which then can be used to configure maintenance plan. The task defines detail SOPs, checklists, materials, tools and manpower required.

LOCATION/ ZONE MANAGEMENT
Zone modules allow users to configure the campus sites and zones or locations. The system provides hierarchical input of zones which offers level mapping of assetsí locations. GPS data can be incorporated into the system easily by using android or IOS mobile devices. System users can be grouped and their accessibility limited by location. Using this method, building owner can be restricted to view and manage its own campus while corporate administrator can view and manage the entire multi campus organization.

ASSET MANAGEMENT
Asset Management modules manages all FMS properties and assets that are required for maintenance. The module captures all the details about the asset and its respective owner. The assets and equipment can be listed in hierarchical view with location information.

MAINTENANCE PLANNING
This module provides a tool for facility managers to schedule preventive maintenance for a specific asset. Each maintenance starts off with the creation of a maintenance plan and can be linked to any assets which utilizes the same maintenance type. Users are able to differentiate maintenance plans by inserting different tasks provided in the task library. The module also allows facility managers to have a much better view of all the planned preventive maintenance scheduled for a certain assets or fora specific location.
MANUFACTURING |

P/N#MF001
The Manufacturing module focuses on the general manufacturing activities, which can be applied to overall manufacturing processes, i.e. heavy machinery manufacturing, semiconductor manufacturing, equipment manufacturing, automotive, computers, etc. The sub module provides a system which helps governs and focuses on procedures, activities, results, quality, etc. The sub-modules attached includes:
PRODUCT MANAGEMENT
The manufacturing system provides a platform for user to document, monitor and manage all the products listed as service in an organization. It involves every single data from product number, parts needed and material needed to manufacturing a product.


MATERIAL REQUISITION
Through this module, user can build data of materials needed in manufacturing a product. This data is very useful in speed up the material requisition process as the data for each product and material is stored in the system.


BILL OF MATERIAL
The system store and integrate all data of materials in form of Bill Of Material (BOM), sub-BOM that can easily be used when a product is ordered.


PROCESS ROUTING
The system also tracks products from one process to another. It also store information of the whole manufacturing process.


ENGINEERING CHANGE NOTICE
The system also provide a notice indicating every changes made in the bill of materials or manufacturing process so users will always be alerted of any changes.


REPORTING
The system also provide a full report of products, process and materials. This information is very crucial in making managerial decisions.
SECURITY |

P/N#SC001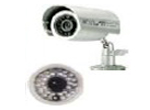 The Security Management system module is the identification of an organizationís assets including information assets, followed by development, documentation, and implementation of policies and procedures for protecting these assets. The sub module provides a system which helps to identify threats, categories assets, and rate system vulnerability so that they can implement effective controls
Card Management
A system for managing smart cards through the life cycle of the smart cards. Thus, the system can issue the smart cards, maintain the smart card while in use and finally take the smart cards out of use.

Device Management
Manage the devices and data by storing them in the server for purposes of reporting and tracing activities regarding of the use of the devices and data.

Admin Control
This modules gives administrator full authorization of accessibility and management of all the assets and services within the organization.

Reporting
The system provides a full report of security, accessibility and threats. This information is very crucial in making managerial decisions.

Location Management
Define the location for each assets within the organization for ease of tracking the assets.

Accessibility Profile
Control the access of users of the systems by allowing and preventing them to have access to certain features within the systems for security measures.
What is ERP on Cloud?
Cloud ERP or also known as SaaS (Software as a Service) is an approach to enterprise resource planning (ERP) that makes use of cloud computing platforms and services to provide a business with more flexible business process transformation.
Enterprise resource planning is an industry term for the broad set of activities that helps a business manage the important parts of its business such as finance, customer relation, supply chain and human resource.
Why ERP on Cloud?
For cloud-based ERP, initial costs are typically much lower because you simply implement the software to your requirements and then access it through any connection and device. The cloud ERP provider hosts and maintains all of the IT infrastructure for you, ensures the system is always running and the data is secure. Ultimately, this all allows you to focus on growing the business more effectively, rather than spending a disproportionate amount of time and money on maintaining and managing your on premise systems.
How ?
To learn more about our products and how can we help your business, please contact us by phone, email, or via our membership evaluation subscription. You will be contacted within 48 hours.